Aqua Flo Hot Tub Pumps Canada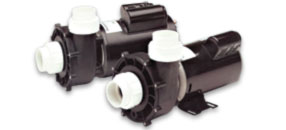 Aqua Flo pumps are sometimes called Aquaflow or Aqua Flow pumps.

These pumps are now made by Gecko.
Aquaflow
Aqua Flo pumps are made for North American operation at 60hz as well as international operation at 50hz.
Circulation pumps are also availble such as the circ master line. The new Circ-Master pump is a larger than average circ pump that delivers a better flow rate than the tiny circulation pumps in the hot tub industry.
48 frame, continuous-duty construction with front and rear, permanently lubricated ball bearings.
If pump replacement is required, many online vendors offer free shipping which is crucial on a heavy items such as a spa pump.

Sometimes components such as impeller, pump seals, wires, start capacitors or even bearings can be replaced instead of having to swap out the entire pump.
Alternatively, either the wet end or the motor can be replaced, saving the other.
Waterway Pump Types include:
Viper, Executive (60hz and 50hz)
Hi-Flo Side Discharge, Center Discharge
Uni-Might, Iron Might, Tiny Might circ pumps.





Find out where in Canada to find spa parts or any hot tub part or accessory.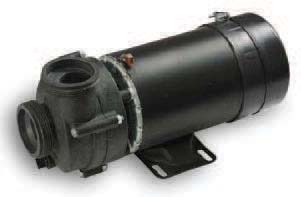 Noisy Pump Problems
If an Aqua Flow pump develops noise, it could be caused by many factors including a leak or other air pocket within the pump
Aqua Flo Hot Tub Pump Troubleshooting Steps
For those that are qualified to work on their own spa pump, isolating the problem is how pump issues can beresolved.
For safe resolution, assure the breaker is turned off and power is disconnected.
First of all if a problem with a pump occurs it needs to be confirmed, that the problem is really with the pump and not with the circuit breaker, GFCI or power supply.
If the pump motor does not start at all,
in addition to checking the circuit breaker, the wiring and power supply should be checked as well as the line voltage. There is also a pneumatic switch that may be turned off.
If the pump runs very hot, this may be a sign of insufficient voltage. This condition can also be caused by undersized wiring. If a very long wire run is used to supply the spa, then a thicker cable may be needed.
A poorly performing pump may also be a sign of low voltage, but also could indicate a clogged filter or clogged plumbing line or obstruction. Modifying plumbing and creating an undersized suction line condition could also result in a noisy pump. If plumbing pipes and hoses are not foamed down, they may vibrate also causing vibration and noise.
Pump isolation pads can mitigate some of the pump hum and vibration.

When replacing a hot tub spa pump, source a similar model as the spa manufacturer has already completed tests on which pumps are the most compatible with the plumbing system in the particular spa model.