Waterway Hot Tub Pumps Canada

Waterway pumps in Canada are one of the most widely used hot tub pumps in the spa industry.
Frame Size
Waterway pumps are available in either 48 frame or 56 frame sizes.
A spa pump usually lasts over 7 years as they are typically underutilized for their purpose. In many other applications, pumps run alot longer and more often than they do when installed in a hot tub spa.
If a pump should develop a problem, basic troubleshooting steps can often save the replacement cost of a new pump.
If pump replacement is required, many online vendors offer free shipping which is crucial on a heavy items such as a spa pump.

Sometimes components such as impeller, pump seals, wires, start capacitors or even bearings can be replaced instead of having to swap out the entire pump.
Alternatively, either the wet end or the motor can be replaced, saving the other.
Waterway Pump Types include:
Viper, Executive (60hz and 50hz)
Hi-Flo Side Discharge, Center Discharge
Uni-Might, Iron Might, Tiny Might circ pumps.





Find out where in Canada to find spa parts or any hot tub part or accessory.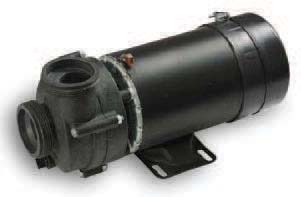 Noisy Pump Problems
If a hot tub pump is noisy, there could be many reasons for this. One way to reduce e the steady state hum caused by the mechanical coupling of a hot tub pump to the hot tub cabinet and shell, is to mount the pump on an isolation pad.
The pump may just be loosely mounted, which can cause excessive vibration, so tightening down the pump mounting is also an option to get the pump to be less noisy.
A winding switch or capacitor failure may also cause the pump to just hum without turning. , Worn or faulty bearings can cause excessive rattling noise.
Hot Tub Pump Troubleshooting Steps
For those that are qualified to work on their own spa, isolating the problem is how spa issues are resolved.
For safe resolution, assure the breaker is turned off and power is disconnected.
If the spa motor will not start, the problem may be a fuse or circuit breaker, or a faulty or tripped GFCI. Assuring the GFCI is working by testing it is a good first step toward isolating pump motor problems.
When measuring the voltage at the pump if the pump is turned on under power, an electrician will determine that either the pump is getting power and to look further into motor issues, or the pump is not getting power even when it should in which case the problem is elsewhere.
If the pump is humming, but not starting, there may not be enough water in the pump or it may have seized. A seized pump requires taking it apart and freeing the blockage. Pump motor service centers are available to repair pump motors, or the pump motor can be replaced without needing to buy a whole pump.

Hot Tub Spa.ca


Waterway pumps carry pressure versus flow rate ratings. These are considered by hot tub manufacturers to assure a proper pairing between pump specifications and plumbing design.
Waterway pumps are also available for pools.
This is also one of the reasons why, when going to replace a hot tub pump, similar pump types are used. The electrical rating will assure a pressure match within the spa, and the frame size and physical aspects of the pump will assure it mates with current plumbing without needing to replumb certain parts of the plumbing to accomodate a new replacement pump.
Happy tubbing!