Hot Tub Supplies Canada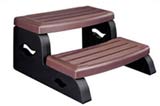 Hot Tub Steps
Spa steps come in many different shapes, colours and sizes.
From a safety perspective, all hot tubs should have a hot tub step for easy and safe entry and exiting. Fancier ones even have a handrail, but in any case you can choose between plastic or wood steps.
With the recent trend toward plastics, a handy plastic step is not only inexpensive, but also portable and useable as a utility step.
Step into your spa securely with a hot tub step.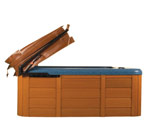 Hot Tub Cover Lifters
A spa cover lifting device can make spa use more inviting when you are by yourself.
Especially large covers can get very heavy to remove and put back, but with a hot tub cover lifter, one person can easily remove a big cover, enjoy the spa and then replace the cover. For the price, this convenience is well worth the money.
If you are going in to the spa to help relieve back pain, don't cause back pain by lifting a big heavy cover - get a hot tub cover lifter!

Get those hard-to-find spa parts or any hot tub part or accessory you need in Canada from TheHotTubSuperstore.com.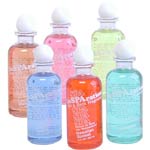 Spa fragrances can create an exhilarating experience by stimulating the senses. They come in oil free liquids which are made especially for hot tub use and also in crystal form. Available in small tester packet pillows or in larger bottles.
Unlike dry fragrance packs that require an installed air blower to introduce the scent into the spa via the air blower and air channels, a simple liquid can be added directly to the water and will not cause water chemistry imbalances. Try some different spa scents today!