Aqua Flo Hot Tub Pumps

Aqua Flo hot tub pumps are now by Gecko. These high performance pumps have been one of the choice brands preferred by hot tub manufacturers in the production of their spas.
A good hydromassage experience begins with the quality of the hot tub pump. The pump components all perform together to create a well-built spa pump including the impeller that is spun by the pump motor which moves the water, and the wet end which contains the water under pressure.
Aqua Flo pumps have long been used in hot tub production and have many internationally required approvals including UL listing, CE mark and other quality marks.
The pumps are tested before shipping to assure smooth operation.
The Aqua Flo spa impeller keeps the water moving through the pump.

Impellers are matched to the pump motor in order to provide the ideal amount of leverage. Sometimes the next largest impeller is used in a spa in an attempt to gain more apparent water flow.
While this may sometimes work, it can also unnecessarily strain the motor. It is best to buy a pump that is rated for the proper application instead of attempting to modify an existing pump.
Waterway Pump Types include:
Viper, Executive (60hz and 50hz)
Hi-Flo Side Discharge, Center Discharge
Uni-Might, Iron Might, Tiny Might circ pumps.



In Canada, get discount hot tub pumps at Canada's TheHotTubSuperstore.com.

Frame Size
Aqua Flo pumps are available in either 48 frame or 56 frame sizes. Replacing a pump type with one of the same frame size is important.
Issues that can cause pump problems include dirty filters or even a leak somewhere in the suction line of the hot tub plumbing.
This means that the problem may not always be solved by just replacing the spa pump in the case of cavitation or humming. From a damaged or defective impeller to low voltage supply, there can be many reasons why a pump will not work properly.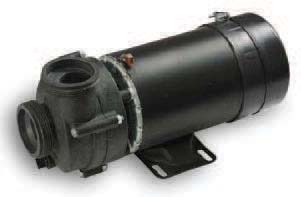 Noisy Pump Problems
Sometimes poor design or mounting can cause a pump to seem excessively loud. In that case, mounting the pump on a pump pad or isolation pad may reduce the noise. Loose mounting of the pump to the floor or pad may also cause vibration that can be fixed by tightening the pump mounting connection.
A winding switch or capacitor failure may also be the source of pump hum. Worn or faulty bearings can cause an excessive rattling noise.
Hot Tub Pump Troubleshooting Steps
For those that are qualified to work on their own spa, isolating the problem is how spa issues are resolved.
When needed, Aqua Flo motors and wet ends are available to source online when attempting a pump repair. Similarly, complete Aqua Flo pumps or similar spec replacement spa pumps can replace the existing pump.
Be sure to find an online source the ships for free, since shipping costs on heavy pumps can be very expensive.
Be sure to match pump specifications including pump plumbing size, frame size, motor specs such as horsepower and the location of the discharge.
Note that many pumps allow for the rotation of the wet end to accommodate various plumbing setups.
Also make note if plumbing unions and orings are required depending on the condition of the existing pump unions and orings.
Aquaflo FloMaster Pump
The FloMaster pump by Aquaflo is an example of a pump that allows the wet end to be rotated. There are S series pumps where the pump union is offset, and there are C series or center discharge position.
Note if the pump you are replacing is single speed or two speed and replace with the same type of pump.
Usually pump unions will either fit 1 1/2 inch or 2 inch spa plumbing. Note that the actual outside diameter of the PVC sizes is somewhat larger. For example, 2 inch PVC plumbing actually has an outside diameter of 2 3/8 inches.
Most pumps are shipped with the pump unions, but when ordering, be sure the description mentions this and also if the pump o-rings or gaskets are included.
Read an article on how to order a replacement a hot tub pump at Canada's The Hot Tub Superstore.