Hot Tub Cover Lift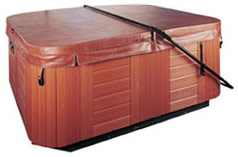 Hot Tub cover lifts help to remove hot tub covers easily.
Especially for thicker spa covers, having a cover lift can make it easy for even one person to remove and replace the cover by themselves.
Why risk back injury when a hot tub spa is supposed to rejuvinate and relieve muscle tension. Cover lifts can be found economically online, but make sure you get the correct type depending on your spa cover shape, size and how your hot tub is installed.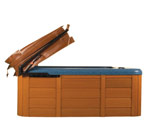 Cover Valet Cover Liftis one of the most popular types of cover lifts for locations where the cover cannot be retracted fully to the ground, or where a half-tall standing cover is desired out of privacy considerations.
Inside of a gazebo or if the spa is sunken in a deck may call for a Cover Valet type cover lifter to be mounted on the deck or on the spa skirt.
If room is no consideration, one of the many full arm cover lifters that collect the cover and allow it to rest close to the ground on one side of the spa may be the best solution.
Whenever using an arm-type cover lift, be sure there is sufficient clearance on the two sides of the spa where the arms are located.

Find out where in Canada to find discount spa cover lifts online.
The cover lifter can ease the strain of removing and replacing hard covers on hot tubs. It can also protect the cover from excessive handling wear or the accumulation of debris on the cover that then ends up in the clean spa water such as grass and dirt.