Hot Tub Steps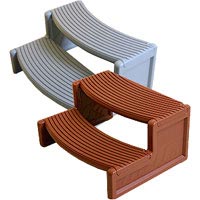 Hot tub steps provide a safe way to get into and out of your hot tub spa.
Spa steps are available in wood or plastic materials.
Many newer hot tub models use plastic or PVC cabinetry instead of the old-style wood cabinets which required annual staining and maintenance.
A natural match to a plastic cabinet is a plastic step. The most common colours of hot tub steps is either brown (redwood) or grey.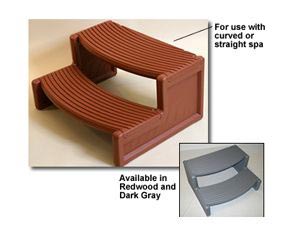 Handi Step is one of the most popular hot tub steps on the market. It comes with a slip resistant tread and is reversable to match up to either a flat or rounded spa cabinet.
There are also wider hot tub steps and even spa steps with a hinged lid for storage or a step light.

Find out where in Canada or in the U.S. to find discount hot tub steps online here: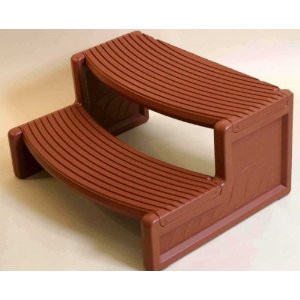 Many hot tubs also have a set of steps inside the spa for safely entering the water. Then it becomes simple to determine what side to place the steps as they usually line up with the outer step being placed adjacent to the inner step. Many times the spa equipment is located under the inner step, so the side is open for ease access.
One of the most popular hot tub steps is the Handi Step.
Buy Hot Tub Steps Online:
Handi-Step Spa Step, Redwood Color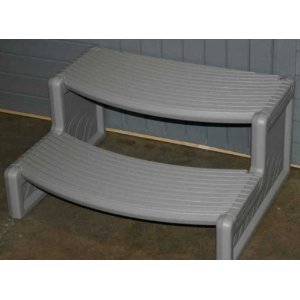 Handi Step is also available in Grey.
The best spa step is the one that matches in colour and provides the best utility. A lighter step will be easier to also use as a handy step in the kitchen or around the patio as needed.
Many do-it-yourselfers make their own hot tub step out of wood, but wood steps usually require regular staining whereas the plastic steps don't require maintenance.
Further, the wood steps may even cause a splinter depending on how they are finished and what type of wood is used. Plastic steps are long lasting and easy to stow and remove as needed.
DuraStep from Leisure Concepts is also a popular step.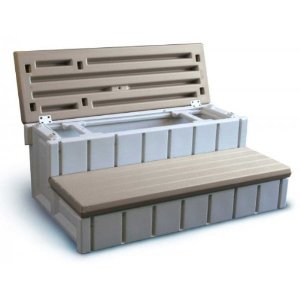 Leisure Accents Steps