Hot Tub Filters Canada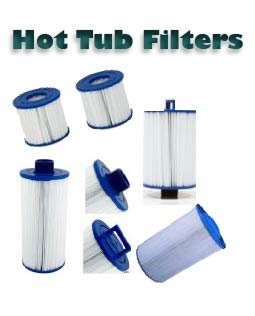 Hot Tub Filters
There are hundreds of different spa filters on the market so measuring your old spa filter will help you identify the correct replacement filter.
Most hot tub filters are the cartridge filter type, but there are also Diatomaceous Earth filters (D.E.) and sand filters used in some spas.
The cartridge filter is made up of the end cap and casing as well as the actual filter element. The element has a square footage rating related to how much filter media is used in the folded material.

Spa Filters
A spa cartridge filter should be maintained so it lasts longer. This includes regular rinsing out with a garden hose. This allows for proper capturing of undesired dirt, hair, oils, particles and other hot tub debris.
The filter can also be soaked overnight in a cartridge filter cleaner especially made for opening up cartridge filter pores.
Spray on filter cleaners are also available. You can have a second filter that is used to rotate the first one out when it is being soaked overnight in filter cleaner.
Do not use any soap based cleaners or you will introduce a high volume of foam and oil into the water. Replace every year or so.

Get those hard-to-find spa parts or hot tub filters at TheHotTubSuperstore.com.
How to Measure for a Replacement Hot Tub Filter - Get your replacement filters online
Hot Tub filter replacement requires measuring your existing filter that came with the spa to determine what size filter you need.
The diameter of the filter (A) along with the length (B) and the core diamter (C) are the measurements needed to be sure you get the same type.
Some filters actually have a model number or id number etched in the plastic end cap. Reading this number may help you identify the correct filter.
Finding a replacement hot tub filter is easiest if you know the filter reference number. It can be a Pleatco number, or Filbur or Unicel reference number as stamped on one of the end-caps of the filter. If the number can not be found, then taking a filter measurement will assure the correct replacement filter.
It may be a good idea to take the length, diameter and center hole measurements to be sure you will receive the correct filter.