Hot Tub Spa Covers Canada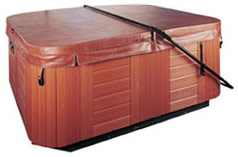 Hot tub spa covers come in several different configurations. Spa manufacturers typically do not make their own covers, rather they contract that part out to cover manufacturers.
There are a few factors to consider when ordering a replacement cover.
Hot Tub Cover Colour
OK, that's easy, what colour should the cover be? Most likely the same colour it was before.
Hot Tub Cover Taper
Hot tub covers are tapered to allow rain to flow off of the cover, so for example a 3-2 cover would be 3 inches thick at the center and 2 inches thick on the sides. The slope allows for water and melting snow runoff.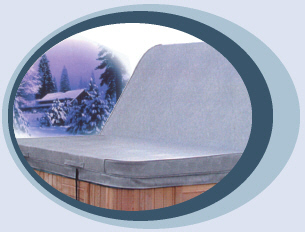 Hot Tub Covers

Your hot tub cover can get beat up pretty bad over the Canadian winters and seasons.
Typically many hot tub covers only last 5-7 years and require replacement. Keeping your cover in good order can help save money on electricity by properly covering the spa and also can save your back by not having to heft a water-logged spa cover.
The cover is also a breeding ground for bacteria if it is water-logged or not cleaned regularly.
When it is time to replace your hot tub cover in Canada, get it at TheHotTubSuperstore.com

Get your hot tub cover in Canada - or any hot tub part or accessory you need.
Spa covers can wear down for many reasons. If you don't have a cover lifter, they are more prone to mishandling. Over the winter months, snow and ice accumulate on the cover and break away at the core as well as the cover jacket.
Usually, replacing just the cover skin is impractical because the inside of the cover may already be water-logged or dented. Once an indentation occurs at the top of the cover, water can puddle and create a larger indentation. This cycle will soon yield an un-serviceable spa cover where you have to get rid of standing or puddling water in order to remove the cover.
Such a cover is long overdue for replacement besides becoming a fine breeding ground for mosquitos and other insects. Once a cover has broken down this far, the dirty standing water will also tend to seep back in to the spa, or worse pool in when you try to remove the cover.
Spa covers don't have to be a problem, order a new one and keep it maintained. Using a cover lift device not only makes hot tub cover removal easy, but also ensures the cover is not mishandled or punctured by items in the surrounding patio or grass.
Even with the best intentions, spa owners will inevitably be faced with the situation of having to hoise a spa cover on to the spa by themselves in the absense of anyone around to help. This can put a strain on your back and negate any positive effects your muscles are experiencing through actually using the spa. So invest a small amount in one of the available cover lifting devices and enjoy your spa to the fullest.
Toprail Cabinet Issues:
If you have a hot tub that has a toprail that goes around the upper perimeter of the cabinet, then you need to take care when ordering a replacement spa cover regarding the skirt length measurement. If your previous cover had cut corners, you will need to make a special request when ordering a replacement cover to have the corners slit when ordering a cover for a rounded-corner hot tub. Otherwise the cover skirt will not hang down over the toprail of the cabinet and the cover won't fit.
The other option is to shorten the skirt length to sit just above the rail, but then water can accumulate along the toprail, so it is better to order the longer skirt length but request slits in the 4 corners of the cover so the flap hangs over the rail.

Hot Tub Spa.ca