Hot Tub PVC Manifolds

Hot Tub Water Manifolds
Hot tub water manifolds route water from the spa pump to the hot tub jets.
manifolds split the main water line into smaller lines for individual jets. The connectors to the individual jet lines on the manifold can be barb or other.
Hot tub manifold parts are identified by the type of connections they have. Instead of "slip" some will just write "S". A spigot type connection can be denoted by "spg" or "spig". The barb type connection are also referred to as ribbed barbs.

Hot Tub Control Valves
Control valves are available for water and air. These diverter valves help route water from the pump to various sections of the spa. Typically, a water diverter valve will accept water from either a 1 1/2 inch or 2 inch water hose and route it to 2 different destinations within the spa. Varying the control, varies the flow betweeen one section of the spa and another.

Hot Tub Plumbing Parts can be found online at Canada's TheHotTubSuperstore.com.
Hot Tub PVC Manifolds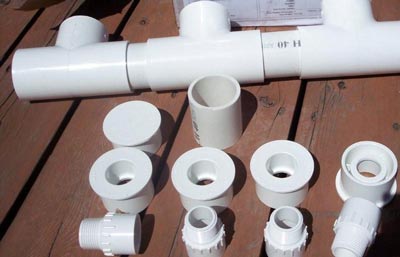 Hot tub manifolds have various port configurations. Sometimes if there is an odd number of ports, there will be a cap or caps on some of the unused ports of a manifold.
Water manifolds distribute the water flow evenly among several different lines that usually lead to a spa jet fitting.
Manifolds can come with slip sockets where the hose fits inside the port, or barbed connectors where the hose fits over the barb. A slip socket on the main section of the manifold allows a hose or pipe to fit inside the connection. A spigot or spig connection is for putting the hose or pipe over the connector.
If you need a certain manifold, but cannot find the exact amount of ports, you can couple two manifolds together or cap off unused ports. In this way for example a 6-port manifold could be made into a 4 port manifold, or two four port manifolds could be glued together to make an 8 port manifold.