Spa Motors

Sometimes replacing a spa motor can save money over having to replace the entire pump.
Shipping is somewhat cheaper too on a hot tub motor vs. the entire pump.
WARNING: Electrical repairs should be made by qualified personel such as electricians or hot tub spa service professionals.

Replacement spa motors are available for Hayward, Aquaflo, Jacuzzi, Cal Spa, Premier and Waterway pumps.
If a spa pump is more than a few years old and has failed, it is best to replace the entire pump rather than replace only seals, motor parts or other hot tub pump parts. But if not, replacing a motor can save money.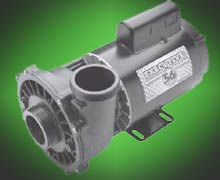 AO Smith Motor

The AO Smith electric spa motor is very common on spa pumps. This is actually considered a Green Choice brand of motor that saves energy by reducing the amount of juice needed to power the pump without sacrificing on quality or performance.
These pumps can also reduce noise and carbon dioxide emitted in to the air. AO Smith makes a variety of different spa motors including their new line of commercial Century II motors.
Other pump motor brands include Magnetek and Emerson. The three most common types of spa motor mounts are with "Thru Bolts", Square Flange or Round (C Flange)

Find out where in Canada to find spa motors or any hot tub part or accessory.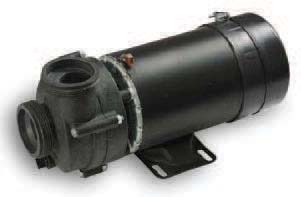 Pump Motor Speed
AO Smith and other replacement spa motors
have magnetic poles like a permanent magnet. The poles are created by the coils of wire. When replacing motors, assure that you are replacing the motor with one that has the same number of poles to avoid speed differences. (RPM)
Multi-Speed Motors
A multi speed motor (two-speed motor) makes a fine substitution on the service truck because even when replacing single speed motors, you can use either high or low speed configuration.
The two types of multispeed pump motors have either a booster winding which works like a transformer, or two seperate windings. So horsepower is typically lower on a motor that uses booster windings instead of two distinct windings. You would only find this type of motor in a light application such as a fan motor.
Most spa motors have two distinct windings so you can achieve the necessary replacement by hooking up the correct taps.
Hot Tub Pump and Motor
A hot tub pump and motor are usually sold as one complete unit where the motor is attached to the wet end of the pump via 4 long through-bolts.
If you are replacing the most common type of hot tub pump, you would find a through-bolt design with 4 bolts that hold the wet end and motor together.
When replacing the motor, the seals and/or o-rings should also be replaced between the wet end and motor to assure non-leak performance of the new motor. (pump seals can degrade often due to poor water chemistry).
If you really want to just replace a part, then be sure you have the experience to complete the repair. Sometimes it is easier (especially with free shipping) to buy a complete new pump - especially if the pump is already more than 3-4 years old).
See what happens in this video when a hot tub pump motor on the test bench explodes!
Watch part of this Hot Tub Pump Explode!
This guy was testing a Spa Pump Motor that he put a new Starter Capacitor on and also replaced the front bearing that had locked up. It seems the capacitor blew up! Lucky nobody was injured. He thinks it must have been a bad capacitor.
Replacing Spa Motors - Amps and Horsepower explained. What to look for on the old pump label plate when sourcing a replacement pump. It would seem that you could just match the pump size and confirm the rated amps of the pump you get are at least as high as the rated amps on the one you are replacing. But that is not the full story. Most labels do not show the wattage or efficiency of the motor. Different motor setups include split phase motors, capacitor start motors (common in spas), permanent split capacitor motors or other type of single phase motor.
So you don't know if your conversion efficiency is poor or you have increased power output and that is the difference between the same amperage on 2 pumps. So we need to compare horsepower ratings between the two pumps as well. If both amps and horsepower are similar between motors, then you most likely can use the replacement motor.
*info above is only provided for informational or entertainment and is not a how-to guide for inexperienced repair personel. When making any kind of electrical repair on a hot tub, rely on your neighborhood spa repair professional.