Hot Tub PVC Connectors
Hot Tub Connectors
Hot tub pvc fittings and connectors are available in the various sizes and shapes in order to match up two pipes or hoses within the hot tub plumbing.
A hot tub water manifold is often used to route water from the spa pump to several different hoses or pipes that lead to the spa jets.
By using a manifold, the spa manufacturer assures equal pressure at all jets on that line as the water flow through the manifold is divided equally.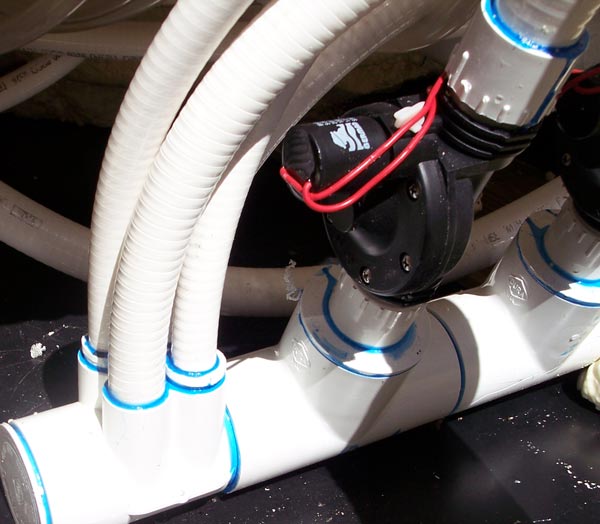 Hot Tub Hose and Pipe
Hot tub hoses are available online and usually come in rolls.
Typical hose thickness is eithere 1 1/2 inch or 2 inch depending on the plumbing size. Some manufacturers mix plumbing within the same spa with some lines being 1 1/2 inch and other 2 inch. Smaller hoses are also used to feed individual jets or ozonator such as 1/2 inch or 3/4 inch. Hoses are available in clear tubing or opaque.

Hot Tub Plumbing Parts can be found online.
Hot Tub Plumbing Part Types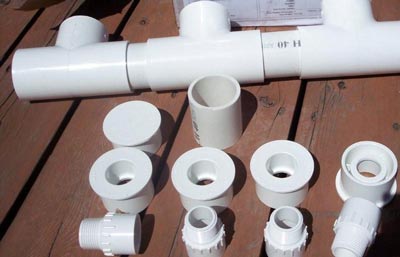 Hot tub plumbing connectors come in a wide variety of sizes and types. When sourcing replacement plumbing parts, the first thing to know is the plumbing size where the connector is located. Common plumbing sizes are 1", 1 1/2" and 2" pipe and connectors.
Hot tub plumbing parts are usually made of PVC and require a PVC glue to connect to each other.
Certain PVC glues dry faster and are more ideal for hot tub use, especially when applying glue to the pressure side of the plumbing, which is the part of the hot tub plumbing that follows the pump in the water flow path.
This spa definitely has some leaks as it was not winterized properly. This spa type has hoses with mounting clips instead of using glue at those connections.
Hot tub troubleshooting involves isolating a particular problem component and then repairing or replacing it.