Hot Tub Spa.ca

Contact Hot Tub Spa Canada
Contact us online at:
Email: info@hottubspa.ca
If you need a part or accessory,please email us a description of the hot tub related item you need and will dig through our database of thousands of online spa parts and provide you with a return email of a discount online source. We will try to respond to your query within 24 hours.
If you are not sure of the part you need, provide spa model number, year purchased and a description of the problem.
Contact: info@hottubspa.ca

Hot Tub Supplies Ontario Canada
Thousands of immediately accessible and sometimes hard to get spa parts available for immediate shipment at The Hot Tub Superstore. From hot tub covers to spa fragrances and even rubber ducks, enhance your hot tubbing by having the right accessories.
Some spa owners have yet to get a set of steps to enter the spa! Having these items will make your experience much more relaxing, enjoyable and above all else: safe!
Electricity and Water don't mix. Call a local spa technician or electrician to make your electrical hot tub repairs.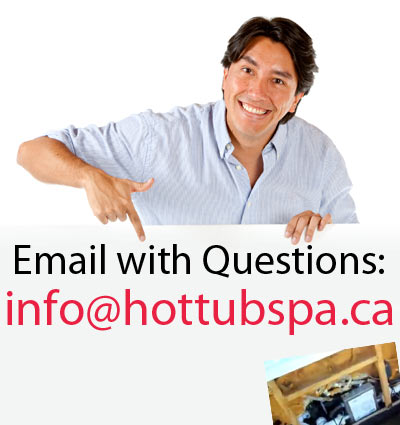 Hot Tub Supplies


From hot tub filters to hot tub fragrances, spa accessories can help make your spa more enjoyable and help it last longer too.
Simple maintenance like maintaining water quality and rinsing out filters regularly can go a long way to limiting service problems with a hot tub.
Our site will attempt to answer many of the questions we receive about hot tub care and maintenance.

In Canada get your online spa parts and accessories at TheHotTubSuperstore.com
Enjoy your Hot Tub more with the right spa accessories. Tried some of the latest spa fragrances?

Hot Tub Spa.ca